5 tags
Start Some Good: The Blog: StartSomeGood... →
startsomegood: In preparation for World Give Day on May 4, 2012, we asked ten inspiring entrepreneurs who have run or are currently running campaigns on StartSomeGood to respond to the following statement: Small gift, big impact: tell us about a time when you saw a small act of giving create lots of…
6 tags
8 tags
3 tags
6 tags
5 tags
9 tags
6 tags
6 tags
6 tags
4 tags
5 tags
3 tags
5 Delicious Foods Threatened By Climate Change →
modedeterre: Chocolate: A report out last month from the Consultative Group on International Agricultural Research (CGIAR) found that just a 2 degree Celsius increase in temperature could significantly reduce land suitable for growing cocoa in the regions of Ghana and Cote d'Ivoire where about half of the world's cocoa is produced. The impacts could be devastating for local farmers and the...
4 tags
5 tags
"Don't spoil the party, but here's the truth: we have squandered our..."
– Kurt Vonnegut A Man Without a Country
6 tags
4 tags
Watch
TEDtalk: Mike Biddle: We can recycle plastic Less than 10% of plastic trash is recycled — compared to almost 90% of metals — because of the massively complicated problem of finding and sorting the different kinds. Frustrated by this waste, Mike Biddle has developed a cheap and incredibly energy efficient plant that can, and does, recycle any kind of plastic. Why you should...
12 tags
4 tags
TurmOIL: Living sustainably on a budget: to-go mug →
sustainablestudent13: Before the rest of the world freaks out I should admit outright that I hate coffee. It's bitter and caffeine makes me shake and not sleep. I hate the stuff, except when it is smothered in sugar, whipped cream, and carmel (and it's decaf). The only coffee I will even get…
5 tags
3 tags
10 tags
6 tags
5 tags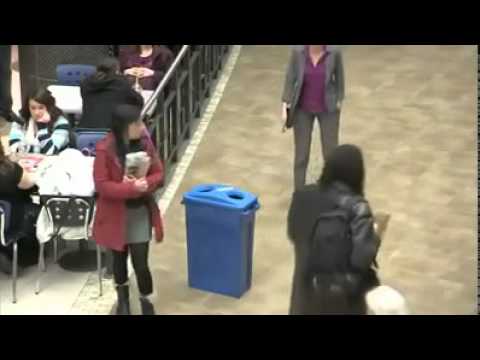 4 tags
3 tags
Watch
The Bicycle Coffee Co. Pedaling the Perfect Roast We love good coffee and we really like to ride bicycles, so we decided to combine the two. It's pretty simple, we roast quality coffee in our custom built roaster and deliver it by bicycle. We only roast organic, fair-trade, Arabica beans grown by farm cooperatives. Bicycle Coffee was started in 2009 by three brothers, a cousin, and a family...
7 tags
9 tags
4 tags
Watch
Public Service Announcement for The reUse Project: Thank you to all who were involved in the development of this project. Your help was greatly appreciated. 
5 tags
6 tags
4 tags
2 tags
6 International Resorts Dishing Pampered Eco...
theearthcharity: Luxurious looks, eco sensibility. Hua Hin photo via Six Senses. Luxury by its very definition means indulgence—while eco-consciousness, such as that employed by Scandic in its moderately-priced hotel chain, is more likely to mean slashing consumption. Read More
9 tags
3 tags
Paper Bags or Plastic Bags? Everything You Need to...
theearthcharity: It's an age old question, when it comes time to check out when grocery shopping: paper bag or plastic bag? It seems like it should be an easy choice, but there's an incredible number of details and inputs hidden in each bag. From durability and reusability to life cycle costs, there's a lot more to each bag than meet the eye. Let's take a look behind the bags. Read More
3 tags
4 tags
3 tags
6 tags
4 tags
8 tags
4 tags
Watch
Designers Accord - Sustainability in 7 - Andrew Dent In today's episode of The Designers Accord Sustainability in 7, Andrew Dent of global materials library and consultancy, Material Connexion reminds us that honesty is the best policy, shares the truth about biopolymers and asks, "WWND?"
5 tags
2 tags
Watch
Sustainability in 7: Dara O'Rourke's Seven Design Principles for Sustainable Design The Designers Accord Sustainability in 7 video series delivers a daily dose of design inspiration by today's leading sustainability experts. Join in the conversation as they share 7 things every designer should consider when integrating sustainability into design practice. Following Bill's introduction to...
6 tags